CorgiAid
CorgiAid is a nonprofit organization to provide financial assistance to corgis and corgi mixes. We help out dogs from shelters or other non-permanent homes, then foster them until a new home is found. Medical and other expenses for these dogs can become high; CorgiAid gathers from those who want to help, and, within our means gets funds to those who apply for help.
Mission
CorgiAid exists to provide a framework for support of rescue efforts for Cardigan and Pembroke Welsh corgis and corgi mixes, for the enhancement of animal welfare and the betterment of mankind.
Featured dog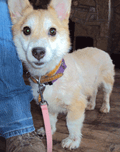 Holly Golightly
adopt me!
Donate!
Please consider donating or using one of these services to benefit the corgis!